VVP issue 1 – 5 January 2004
<![if !vml]>
4 - ICT/ICL 1900 in the Market
4.1 – 1900 deliveries (Road Map)
The following chart was presented by Brian Procter and Virgilio Pasquali, after extensive research, at the ICT/ICL 1900 seminar in May 1996 (Science Museum – London).
It maps the delivery period versus performance of each 1900 model in its successive manifestations (see Sect.1.4), the relative position of the successive enhancements and their relationship with their predecessors and with each other.
The 2903/4 and the ME29 Ranges, though not, strictly speaking, part of the 1900 Range, are included for completeness.
<![if !vml]>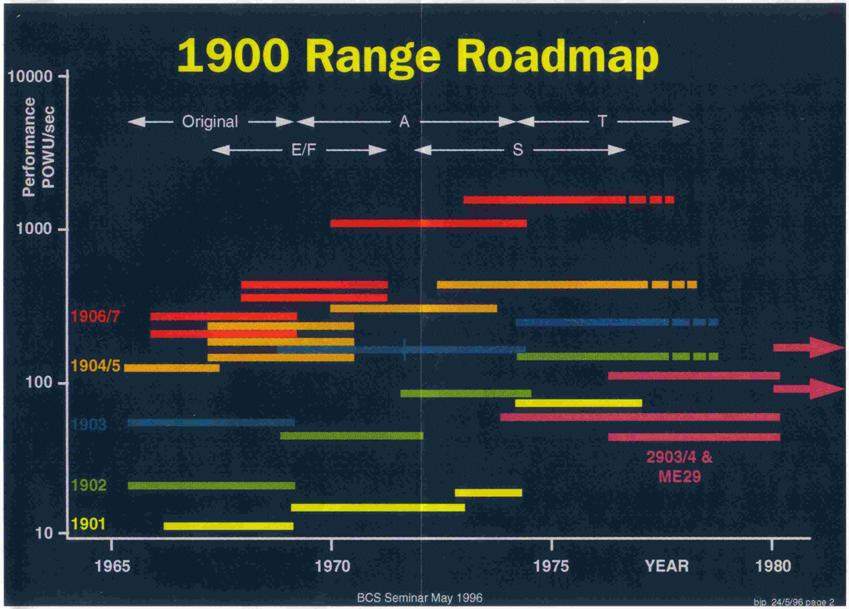 <![endif]>
<![if !supportLists]>4.2

<![endif]>
- Approx. Quantities delivered.
Systems

Quantities

Market Life

1901

250

1966-69

1902,1903

300

1965-69

1904,1905,1909

100

1965-1967

1904/5 E/F

100

1966-1969

1906, 1907 (+1906/7 E/F?)

50

1965-1969

Systems

Quantities

Market Life

1901A,1901S

600

1969-74

1902A,1903A,1903S,1901T,1902T

1000

1969-

1904A,1903T,1904S

Over 800

1970-

1906A,1906S

25

1970-1975

Systems

Quantities

Market Life

2902,2903,2904

Close to 3000

1975-